Translational Ecology
at Reed College
The mission of our student-led Translational Ecology (TE) research program at Reed College is to generate new ecological knowledge that addresses today's pressing environmental issues. To accomplish this, we look to natural resource managers and other decision makers to help us develop research questions and approaches that directly inform environmental management and biodiversity conservation. We believe that this "co-production" of new knowledge provides the best opportunity to address environmental challenges in a rapidly changing world.
"Just as physicians use translational medicine to connect the patient to new basic research, TE should connect end-users of environmental science to the field research carried out by scientists who study the basis of environmental problems."
--Schlesinger (2010), Science 329: 609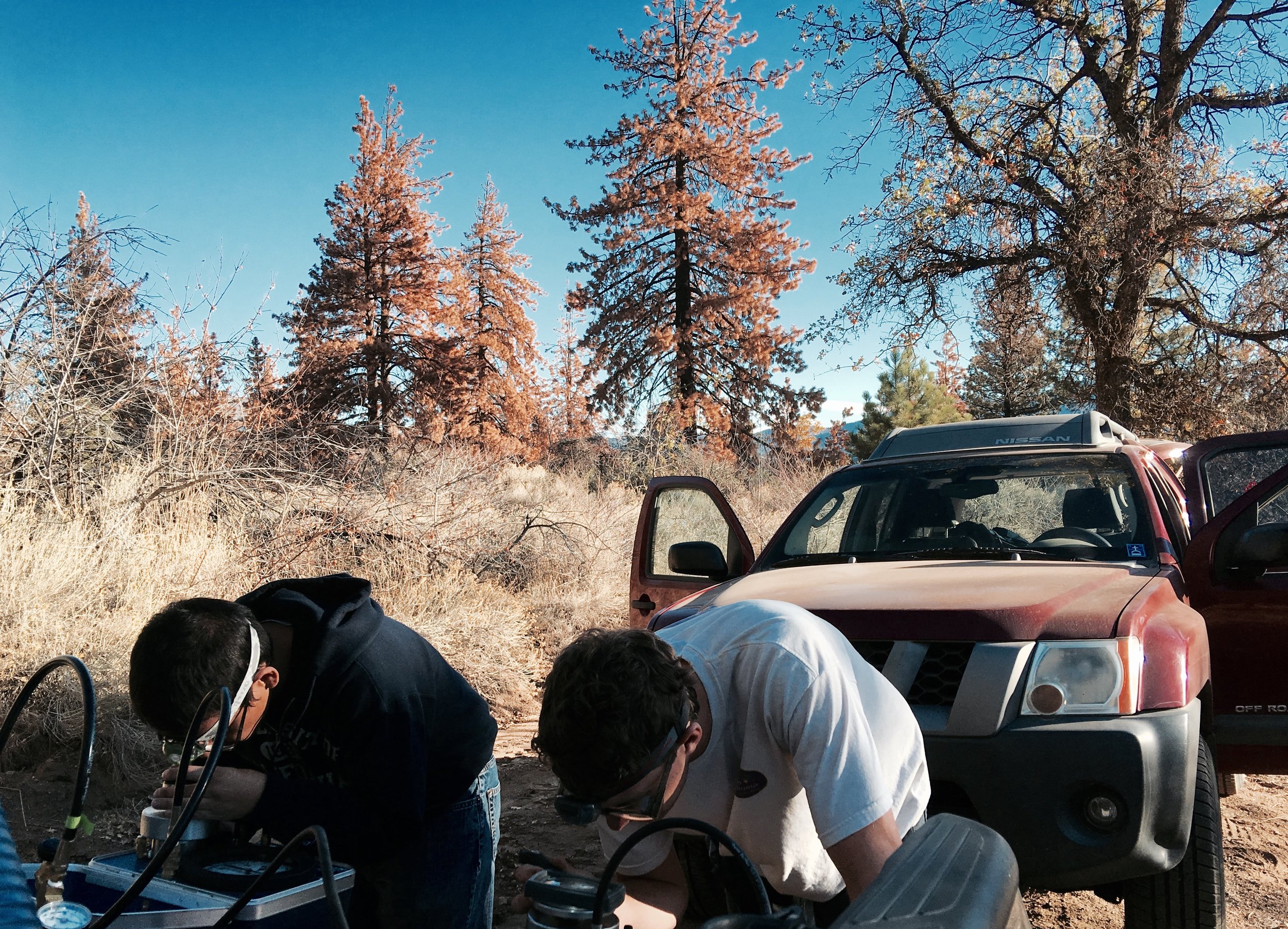 Current Projects:

Effects of fire and drought on bigcone Douglas-fir (Pseudotsuga macrocarpa) in Los Padres National forest. In partnership with the U.S. Forest Service, the National Fish & Wildlife Foundation, and researchers at UC Santa Barbara, we are working to provide informaion on the post-fire ecology and drought physiology of the rare, endemic "bigcone." Bigcone is an incredibly tough and unique conifer species with the ability to survive extremely dry conditions and high-intensity crown fires. Yet, bigcone populations in the region have been heavily impacted by recent droughts and wildfires. Our goal is to provide the best available science to develop an adaptive management strategy for bigcone that will allow for it's persistence in the 21st century. More information...
Socioecology of re-introduced fire in the Ashland watershed. Our students are working with The Nature Conservancy, the City of Ashland, the US Forest Service, and the Lomakatsi Restoration Project on a cutting-edge, collaborative project to restore the natural fire regime to the forests surrounding Ashland's primary watershed. This effort, known as the Ashland Forest Resiliency Project, is an excellent example of putting the best-available ecololgical knowledge into action to solve a real environmental problem. This summer our students will be working to support ongoing monitoring efforts and provide new scientific information that will help shape the adaptive mangement of the Ashland watershed. More information...
Translating the science of Ecological Drought for improved management and conservation decision making. As part of the Science for Nature and People Partnership (SNAPP), we are working with the US Geological Survey, The Nature Conservancy, and the Wildlife Conservation Society (WCS) to guide a working group of natural and social scientists from across the country to address the rising risk of drought through synthesis science and an interdisciplinary case-study in the Upper Missouri Headwaters region of Montana. More information...
The Refugia Research Coalition: operationalizing climate refugia in natural resource mangement and conservation. Identificaiton and management of climate refugia--areas relatively buffered from contemporary climate change over time that enable the persistence of valued physical, ecological, and socio-cultural resources--are an important part of conserving biodiversity in the face of rapidly changing environmental conditions. This coalition's goal is to increase the accessiblity of climate refugia science and to build strategic partnerships for putting new refugia science into action. More information...
Removing limits to field research…
Our understanding of ecological systems is often limited by our ability to accurately measure organisms in their natural environments. Field researchers understand that leaving the controlled lab environment involves important trade-offs in the kinds of equipment and approaches that can be used. However, you also lose something when you bring organisms into the lab to study them--such as, the ability to observe and measure them within their true, natural habitats. Our lab has developed a solution...
Bring the lab into the field!
The Reed College BioBasecamp is a customized mobile wet-lab facility constructed within an Airstream Basecamp trailer. This mobile research lab runs off of 6, full-sized solar panels and a custom lithium-ion battery system that provides an indefinite supply of 110v power for running all of our lab-based equipment in a field setting. With this resource our students can utilize unique research methods and experimental designs that are difficult--if not impossible--for other labs to replicate. Follow us via the social media links below to learn more about our adventures in the #BioBasecamp!